Babies & puppies grow so fast, that to see how beutiful they are, you have to stop the time. And it just so happens, that human has the tools to do it   – photos & viodeo!
And now, I show you some of the photos of our puppies and invite to see all of them in puppies galleries on Paradise's website (go to LITTERS) or on Paradise's facebook funpege! You can also watch them all on Paradise's Youtube channel! 😉
Let's start it!
The first brindle girl is ELANIA Paradise Spirit
– It was a really difficult choise for me with one should stay with us. Both of brindle girls are soooo beautiful…!
Ultimately Elania will go to new home in Germany. 🙂
The second brindle girl is EUPHORIA Paradise Spirit "Ewka"
– this beauty stay with us! 😉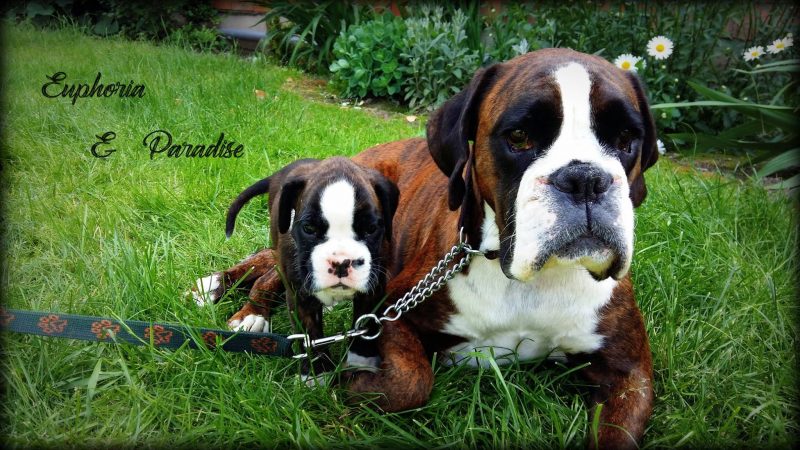 The boys now!
First red male – EROS Paradise Spirit
– wonderful handsome with deep dark mask on face, stay in Poland. He have the biggest demand for love on this time. If he could, he never go down from your lep.  🙂
The second red male is ENERGIZER Paradise Spirit
– lovely, calm (sometimes ;P ) boy, with beautiful white mark on head. 🙂
The third boy is brindle male – EVOLUTION Paradise Spirit "Ivo"
– full of energy, with amazing head – that boy will come really good ( like every with them!) . 🙂
And now, time for my white Princesses!
First one – EDEN Paradise Spirit "Edzia"
– born as the biggest girl, look really great! I love her! <3
And ECSTASY Paradise Spirit – white baby girl with brown patches on ear & eye. 🙂
Paradise's babies have really cutie time now – start being more activ and kissable sooo much! If I could, I will keep all of them for myself! 😀
And for the end –
Me in my Paradise <3